Experience Möbius® Mind, Body, Spirit & Beyond
Chef inspired.

Möbius® was founded by an executive chef who marries the curation of hand-select ingredients along with an expert preparation that is carried out with skill, precision and most of all passion.
Crafted for your personal tastes.

Each Möbius® beverage is produced in small batches and packaged in highly portable and recyclable single-serve bottles. Each bottle is a new opportunity; to create a personalized cocktail recipe, an unwinding moment and a daily reward.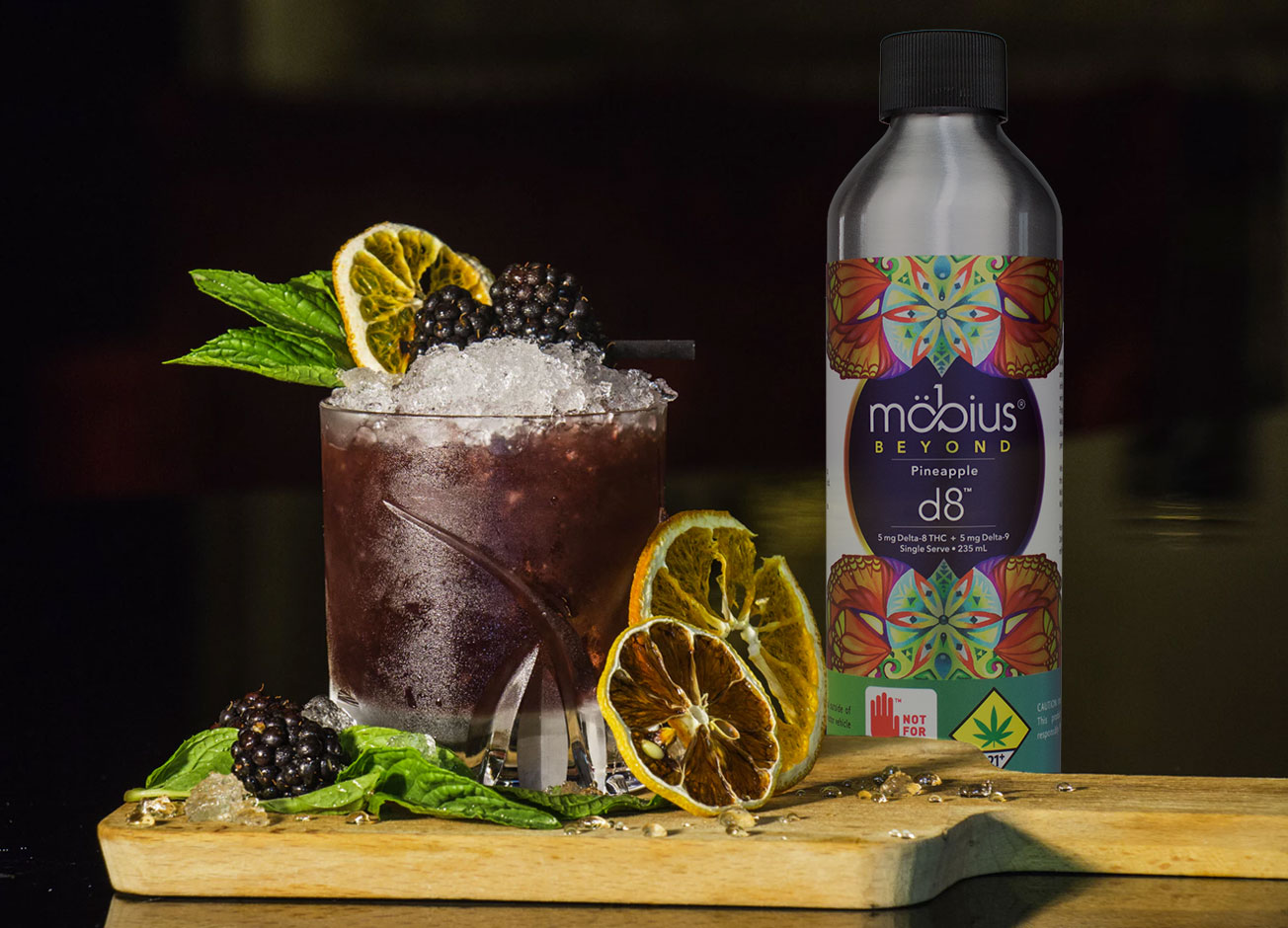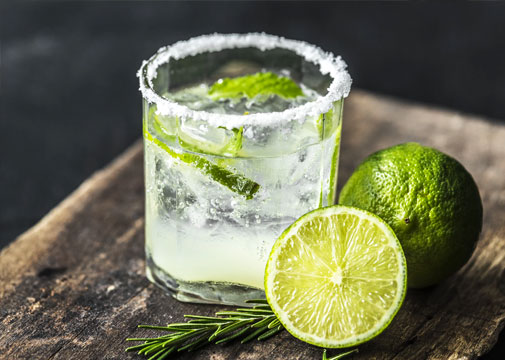 Fast and predictable.
Every Möbius® beverage offers a more rapid rate of absorption which means you can expect a more predictable and immediate pleasure.
A better-for-your body cocktail experience
Alcohol is a toxin, and your body knows it. Each adult beverage adds up, and over time, our bodies do the short/long term detrimental math. With the power of CBD, we created a super premier beverage that offers a tasty, fruit-forward catalyst to endless personal cocktail creations while providing your body a cannabinoid counterbalance to everyday toxins.
The Joy of THC
Our THC line gives you the option to unleash your imagination or rest and relax.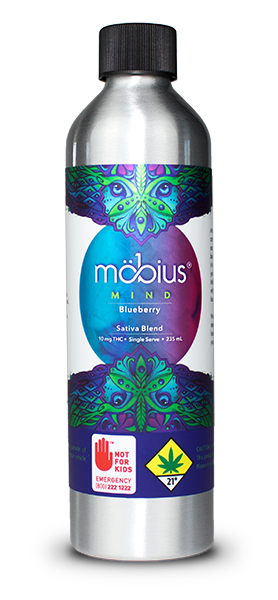 Möbius® Mind
Blueberry | Sativa Blend | 10mg THC | Single Serve | 235ml
What better way to engage in a healthy cannabis experience than to give your pretty pink lungs a rest and savor a cannabis beverage that quenches and stimulates.
Stimulate the creative with Sativa lusciousness rich blueberry and mindful tempting terpenes.
Blended with just the right amount of agave nectar sweetness to allow your inspirations skyward in the most creative of trajectories. Shaken, stirred or simply uncorked let Möbius® Mind unleash your imagination and indulge your intellectual cravings.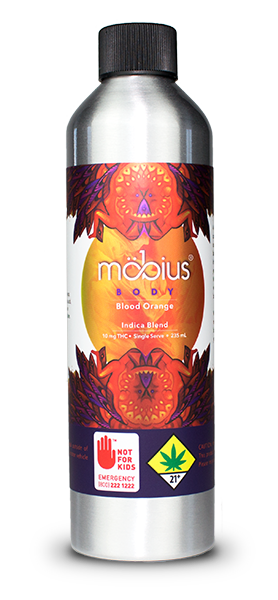 Möbius®  Body
Blood Orange | Indica Blend |  10mg THC | Single Serve | 235ml
When relaxation, tranquility or meditative calm is what the body desires reach for Möbius® Body Indica blend.
Unwind from the inside out as the juicy clementine melts you into a more profound sense of quiet comfort awn from the rough edges and constant noise.
Whether chilled over ice after a long day or warmed as your bedtime salvation in your favorite cup, Möbius® Body helps you find the comfort you deserve and require.
The Power of CBD
Experience the restorative power of cbd.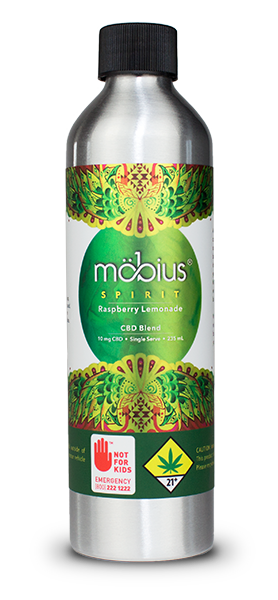 Möbius® Spirit
Raspberry Lemonade | CBD Blend |  10mg CBD | Single Serve | 235ml
Memories of homemade lemonade invoke the Spirit to the time when all was much more gentle and thoughtful.
Paired with restorative raspberry and a perfect scientific ratio of CBD Möbius® Spirit provides you with a welcome regime for achieving your harmonies balance in this demanding ever-changing world without the addition of THC.
The Wonder of D8™
Möbius®  Beyond – Our NEW D8™ Infused Beverages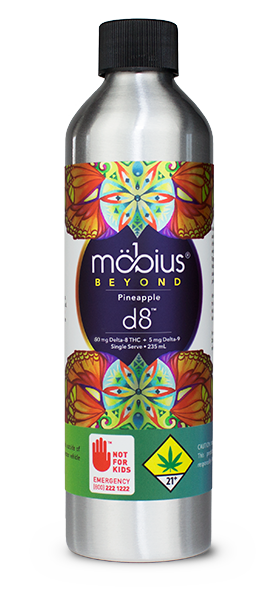 Möbius®  Beyond (Delta-8 THC, 50mg)
Pineapple | D8 Blend |  50mg Delta-8 THC | Single Serve | 235ml
Prepare for your journey to a realm resplendent with pineapple plantations that is familiar, welcoming and formulated. Formulated with agave nectar sweetness to guide you toward your best self.
Whether shaken, stirred or stripped-down to bare, original perfection let Möbius®  Beyond introduce you to the uncommon cannabinoid, Delta-8 THC. A refined and limitless cannabis experience awaits.
Testimonials
"I can definitely see myself adding this Mobius Beverage to my morning smoothie"

"You know what, I think I just found my new after work cocktail."

"35 calories?!  They should have called this yummy skinny cannabis"
Discover More Möbius®
Möbius® Topicals
Möbius® Wearables
Disclaimer: Statements contained herein have not been evaluated by the U.S. Food and Drug Administration. These products are not intended to diagnose, treat, cure, or prevent any disease. Information contained or made available through the Möbius Beverage website are not intended to constitute or substitute for legal or medical advice.